---
PRESENTATION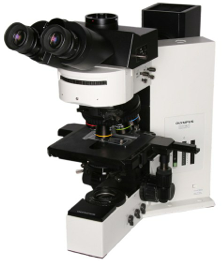 Olympus BX60 manual fluorescence microscope with mercury fluorescence illuminator, and Nomarski/DIC Prism for Transmited Light
---
Room: 2.1.15
IP: 10.101.134.38 (why?)
---
Check "What are the costs" at the Users section
---
| Pos | Mag | NA | IM | Corr. | WD (mm) | Glass (mm) | Color Code | Pixel Size w/ Ham. OrcaR2 camera (um/pix) | Obs |
| --- | --- | --- | --- | --- | --- | --- | --- | --- | --- |
| | 10x | 0.40 | Air | UPlanApo | 3.10 | - | | 0.64 | - |
| | 20x | 0.70 | Air | UPlanApo | 0.65 | - | | 0.322 | - |
| | 40x | 1.00 | Oil | UPlanApo | 0.12 | | | 0.16 | Open iris for fluorescence |
| | 60x | 0.9 | Oil | UPlanFL N | 0.2 | - | | 0.107 | |
| | | | | | | | | | |
Pos Position
Mag Magnification
NA Numerical Aperture
IM Immersion Medium
Corr. Correction Type
WD Working Distance
Glass Coverglass
Obs Observations
40× use with/out coverglass; 100× use with coverglass
---
| Position | Excitation (nm) | Emission (nm) | Fluorophores | Model |
| --- | --- | --- | --- | --- |
| U-MWU2 | BP 330-385 | LP >420 | DAPI, hoechst | - |
| U-MNIB | BP 470-490 | LP >515 | GFP, Alexa488, cy2, FITC | - |
| U-MNG | BP 530-550 | LP >590 | RFP, YFP, Alexa546, Alexa568, cy3, TRITC | - |
| U-MSWB | BP 420-480 | LP >515 | only w/ cromossina | - |
| | | | | |
---
Transmitted light
Halogen lamp
Fluorescence
Olympus U-RFL-T Mercury lamp
---
Hamamatsu Orca R2 cooled monochromatic CCD camera (1.3 Mpixel), coupled to microscope via a 1x adaptor
---
 ACCESSORIES
---
BASIC PROCEDURE FOR MULTICHANNEL GRAYSCALE IMAGES

Turn on Hamamatsu Camera control box (button 1).
Turn on fluorescence source box (button 2).

Do not switch it off for 30 minutes after switching on
DO NOT switch on if the metal casing is still warm, i.e., it was switched off less than 45 minutes before.

Push the Eyepiece/Camera switch pole all the way in, push in the Fluorescence shutter, and select desired filtercube with the manual filterwheel. Select desired objective and bring your sample into focus.
Turn on the acquisition PC and start HCImage Live program
Pull the Eyepiece/Camera switch pole all the way out.
Select desired number of channels / fluorophores with drop-down box 1. Start Live acquisition with button 2. Check "Saturation" (button 3), so you can see black pixels as GREEN and white pixels as PINK. This will help you with exposure settings.
Click each individual number on box 4 to pick each filter combination – DO NOT CHANGE THE ORDER. As you click each one, the software will ask for the proper position in the filterwheel: WU (ex.: DAPI), NIB (ex.: GFP), or NG (ex.: mCherry).
Increase exposure in each filter combination until you see your signal, but very little to no saturation (white/pink pixels). Adjust offset so you see a few black/green pixels in your background (dashed area). If needing very long (>3 seconds) exposures, consider increasing Gain. Image noise will be increased as well, so beware.
When you have picked correct exposure settings for all your channels, click Capture (button 5). The software will ask you for the specific filterwheel position for each acquisition. Minimize table vibrations as the software is acquiring images.
Right-click on each new 3-color image and choose Save All Channels (48 bit). This means you will be saving a composite image with three 16-bit channels. Save it as a TIFF file on your image folder.
Turn off system in reverse order.
You can calibrate your images in FIJI using the "Pixel Sizes" for each objective. You can find these in the Objectives section.
---
---
 LINKS / USER MANUALS
---
PEOPLE RESPONSIBLE FOR THE EQUIPMENT
Telmo Nunes

FCUL

Microscopy technician

mevarrimento@fc.ul.pt

Room 2.1.15
Ext: 22181

Luís Marques

FCUL

Microscopy technician

lfmarques@fc.ul.pt

Room 8.1.79 / 2.1.15
Ext: 28179 / 22181